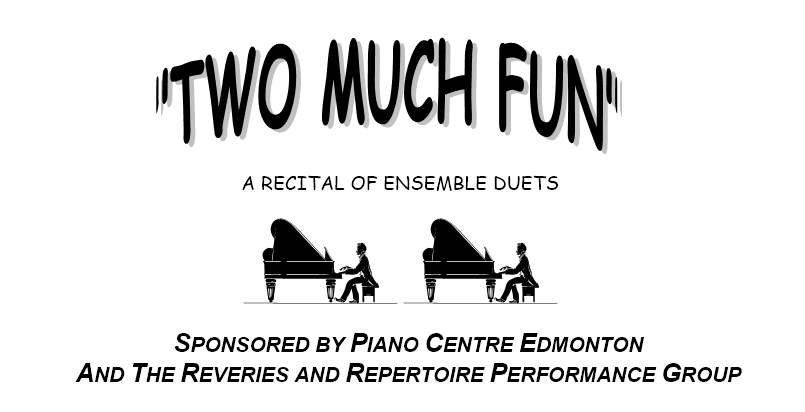 DRESS REHEARSAL:
Friday, March 15, 2019 starting at 4:00 pm with about 10-15 minutes per group. Download the rehearsal schedule.
You must be able to attend the dress rehearsal in order to participate, since this is the only opportunity to put all the duets together in a larger ensemble!
RECITAL:
Saturday, March 16, 2019 at 3:00 p.m.
LOCATION (for both rehearsal and recital):
Southgate Alliance Church, 3916 – 107 St., Edmonton
Song(s)
Rehearsal Time
Tempo






Bluebird on My Shoulder
4:10
144






Yankee Doodle/
Muffin Man

4:20
132
132






Wheels On the Bus/
London Bridge

4:30








Bah Bah Blacksheep/
Alouette

4:40
100 (half note)
144







This Land Is Your Land/
Peter Cottontail

4:50








Chickadee Waltz

5:00
108






Orchestra
5:10
104






Happiness Runs
5:20
126






My Paddle
5:30
108






Twinkle, Twinkle, Little Lamb
5:40
104






In the Groove
5:50
116






Fiddlehead Green
6:00
116






In the Hall of the Mountain King
6:10
88






Ship Ahoy
6:20
100






Ancient Land
6:45
108






Duelling Pianos
7:00
126






Down Home Dance
7:15
126






When Irish Eyes are Smiling
7:30
132






Hava Nagila
7:45
148






Maple Leaf Rag
8:00
120






Gone Fishin'
8:15
92






The Entertainer
8:30
116






Spinning Song
8:45
160






Re-arranged secondo parts for songs from the Faber & Faber PreTime Piano Favorites book: